4 March 2015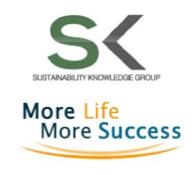 Sustainability Knowledge Group and More Life – More Success have teamed up to offer a new unique residential course for professionals ready to start their sustainability journey! By combining expert training with innovative coaching we enable professionals to learn how to act positively and impact the triple bottom line of People-Planet-Profit. This 2-day innovative residential training on 14-15 May in London is targeted to professionals and entrepreneurs who are willing to make a career change towards CSR and sustainability.
Participants will gain an excellent understanding of all key areas related to the implementation of CSR and Sustainability combined with coaching principles to assist them in their day-to-day job.
The course builds on the "Sustainability and CSR Masterclass", which is an essential part of the learning experience. Participants will receive their 'Sustainability & CSR Masterclass' certificate from the leading UK Institute of Leadership and Management (ILM) verifying their knowledge and successful completion. They will also be guided to complete post-course assignment during the course. Sustainability Knowledge Group is an ILM Recognised Training Provider.
The course has been developed in an innovative way and unique residential format which allows participants to actively engage in 2 full days of experimental learning. The format contains an evening team exercise and group dinner. On day 2, participants will be guided to complete their ILM certification assignment!
Participants will walk away with valuable coaching tools and insights on how to implement what they have learned and how to achieve goals and manage change.
For more information about the course please click here or drop a line to:
Aglaia Ntili: [email protected]
Christiane Pohl: [email protected]