CSR and Sustainability resources
to download: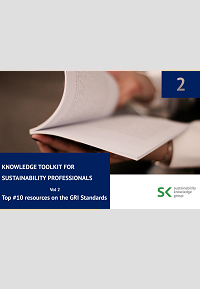 Sustainability Reporting has become an integral part of organizational performance, strategy and stakeholder engagement. Yet, this process is demanding and complex. This valuable collection of publications on GRI Standards and GRI Sustainability Reporting will help...
read more
Top Resources – Top Downloads
The revised 2-page Reference Sheet is a simplified version of the 500+ pages of the GRI Standard. It gives you a great and user-friendly overview of the Standards. This version includes the newly added GRI Tax Standard (GRI 207: Tax 2019).
read more
This 2-page Reference Sheet presents the key components of The GRI Standards. It is simple to use and gives you a great overview of the updated framework. This version includes the revised GRI 303 Water and Effluents 2018  as well as the GRI 403 Occupational Health and Safety 2018.
read more
In the 2nd edition of the CSR and Sustainability Glossary we aim to shed light on the terms, frameworks, standards and approaches that define the application of Sustainability and CSR globally. We look at institutions and bodies that shape the Sustainability...
read more