CSR and Sustainability resources
to download: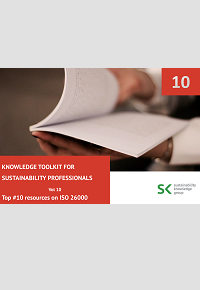 We have developed this valuable collection of publications on ISO 26000 to help you understand  the standard and the benefits of incorporating it into your core business. The toolkit will also help you link the ISO 26000 standard with global standards and guidelines...
read more
Top Resources – Top Downloads
The revised 2-page Reference Sheet is a simplified version of the 500+ pages of the GRI Standard. It gives you a great and user-friendly overview of the Standards. This version includes the newly added GRI Tax Standard (GRI 207: Tax 2019).
read more
In the 2nd edition of the CSR and Sustainability Glossary we aim to shed light on the terms, frameworks, standards and approaches that define the application of Sustainability and CSR globally. We look at institutions and bodies that shape the Sustainability...
read more
This practical and insightful guidebook is the key tool of the Business Knowledge Platform, of Lebanon Climate Act, which Sustainability Knowledge Group supported as the Knowledge Partner. Download the guide and use our tools to identify ways to manage Climate Change...
read more