According to World Economic Forum (WEF) stakeholder capitalism is a form of capitalism in which companies strive to create long-term value while taking into account the needs of all stakeholders and society as a whole not only shareholders. However, although everybody seems to agree with regards to the concept's importance, a crucial question arises: how can we measure its value?
The concept of stakeholder capitalism goes back to 1973 when the original Davos manifesto encouraged corporate managers to create long-term value by engaging all stakeholders to address the most pressing societal issues. Since that time, stakeholder capitalism has lacked a way to measure corporate performance and progress.
Support for stakeholder capitalism has gathered momentum in recent years with the emergence of environmental, social and governance (ESG) priorities for a more sustainable future. At the same time, the ongoing pandemic is accelerating the entire process of stakeholder capitalism. There is growing evidence that sustainability is having a big impact on the decisions of consumers, customers as companies are taking a long-term view regarding profits and impact, according to McKinsey & Company.
If you can't measure it, you cannot evaluate it
The International Business Council (IBC), a community of more than 120 global CEOs, in collaboration with the World Economic Forum (WEF) have created a task force to develop a core set of common and transparent metrics for measuring stakeholder capitalism advancement that can be applied across industries and countries.
The proliferation of reporting standards seems to confuse companies and investors, thus leading not only to "reporting fatigue" but also to an inability to grasp the real benefits of stakeholder capitalism
Recently, we have observed many changes and developments in the disclosure and sustainability reporting landscape. One of the biggest challenges in reporting is a lack of consistency, as the lack of common metrics to measure and demonstrate long-term value creation is a challenge for all companies. The lack of comparability and consistency between corporate reporting frameworks and standards hinders companies from demonstrating their contributions to achieving the Sustainable Development Goals (SDGs) and making progress on sustainability issues.
To help achieve clarity and encourage harmonization of sustainability standards:
For common metrics and consistent reporting
In late 2020, the WEF published "Measuring Stakeholder Capitalism: Toward Shared Metrics and Coherent Reports on Sustainable Value Creation" report. The report proposes 21 core and 34 expanded metrics and disclosures to help companies measure and report progress towards shared economic, environmental and social goals.
Core metrics: These are primarily quantitative metrics for which information is already reported by many companies and focus on activities within the organization's own boundaries.
Extended metrics: These are metrics and disclosures that tend to be less well-established in existing practices and standards and have a wider value chain scope or convey impact in a more sophisticated way.
These metrics are built from existing standards to achieve greater comparability and consistency in reporting ESG disclosures. The recommended metrics are organized under four pillars aligned with the SDGs and principal ESG domains: Governance Principles, Planet, People, and Prosperity. These pillars are in line with the core elements of the SDGs, and each of these pillars has an important impact on the company's ability to create shared and sustainable value.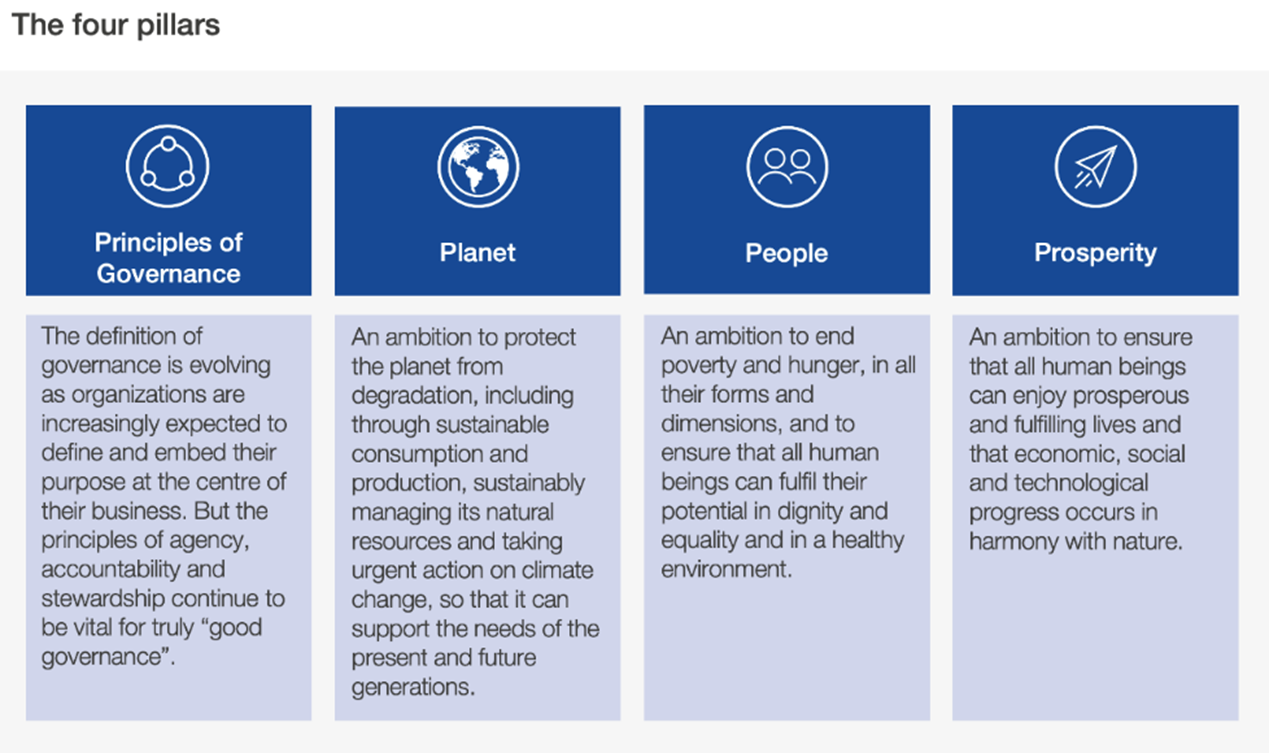 Within each pillar, metrics and disclosures were chosen that best combine universality across industries and regions, enabling companies to demonstrate their commitment to creating sustainable value over the long term. Each pillar comprises of themes, considered the most important to society, the planet, the economy, and the most globally relevant to all businesses. They are as follows:
Pillar: Principles of Governance
Governing purpose
Quality of governing body
Stakeholder engagement
Ethical behaviour
Risk and opportunity oversight
Pillar Planet:
Climate change
Nature loss
Freshwater availability
Air pollution
Solid waste
Resource availability
Rationales and additional commentary
Pillar People
Dignity and equality
Health and well‑being
Skills for the future
Rationales and additional commentary
Pillar Prosperity
Employment and wealth generation
Innovation of better products and services
Community and social vitality
Rationales and additional commentary
For a more inclusive and sustainable business community

There is a common agreement that Covid-19 is accelerating the process of stakeholder capitalism. When the pandemic erupted, stakeholder capitalism gained fresh impetus as it pushed countries all over the world to prioritize, give precedence to the collective wellbeing first and foremost, restored the importance of local communities and prompted discussion about inequalities in the workplace and in society. Therefore, more than ever, companies need to measure stakeholder capitalism to create more prosperous communities and a more sustainable relationship with our planet.
Stakeholder capitalism metrics is a step forward towards common metrics and consistent reporting for creating sustainable value. Companies can use stakeholder capitalism metrics to consistently align their performance reports against ESG indicators and track their contributions toward the SDGs. In addition, the metrics will enable investors and other stakeholders to align capital and resources towards the achieving the Sustainable Agenda and help drive long term value.
__
About Sustainability Knowledge Group
Sustainability Knowledge Group is a global Sustainability, ESG and CSR advisory firm dedicated in creating value through strategic advisory and training solutions, coaching and meetups. We work with organisations to develop, manage, and measure effective Sustainability strategies and programs, address social and environmental challenges, and bring tangible results, positive impact and create better businesses.
If you want to learn more about our services, tools and methodologies, please visit:
https://sustainabilityknowledgegroup.com/services/
As a CPD Standards and ILM Recognised Provider, Sustainability Knowledge Group offers certified training courses on Sustainability. To join our trainings and gain the skills and knowledge you need to lead in Sustainability, visit: https://sustainabilityknowledgegroup.com/training