22 March 2015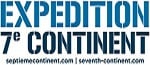 On the occasion of World Water Day, 22nd March, we were proud to co-host our 7th meetup in collaboration with the Alliance Francaise Dubai and the French Business Council.

Unfortunately, the seventh continent is not a paradise island lost in the ocean; it is actually a giant floating trash in the middle of the Pacific. The "Expedition 7e continent" involved many scientists who enabled the expedition to optimize its itinerary in order to find the best pollution convergence zones in the North Atlantic.
Our guest speakers Gilles Broise and Patrick Deixonne both Members of the "Expedition 7e continent" shared with us their experience from shooting the documentary at Sargasso Sea where large masses of waste is located and then washed out to sea in rivers and streams. They spoke about the large masses of plastic waste which concentrate in the oceans and the impact on the environmental and humans. At the same time they addressed the need to raise public awareness of the effects of human behaviour on nature. But mainly they spoke about the key challenge: to act on the issue of waste management and on alternative solutions to plastic in order to reduce waste at the source.