When was the last time you attended a live event? Most probably, the recent business conference, job fair, festival or summit you attended was digital. Although virtual events are becoming more attractive, a lot of participants miss the personal interaction and the traditional exchange of business cards.
During the last decade, the event industry has undergone some profound changes, and one of them is that sustainability principles have been integrated into almost every event planning. Many companies have turned to sustainable events (or green events) that address environmental, social and economic aspects. An international standard (ISO 20121:2012, Event sustainability management systems) has been developed to promote more responsible consumption through which events can be made more sustainable, regardless of type or size.
What is a sustainable event?
Hosting an event requires large amounts of water, energy and materials that lead to waste and greenhouse gas emissions. By considering sustainability planning, an event planner can minimize possible negative impacts and influence change by leaving a positive legacy and inspiring those involved to live more sustainably. A sustainable event is an event that is designed, organized and executed to minimize potential negative impacts and leaves a beneficial legacy for the host community and everyone involved.
Event sustainability management systems
Many event organizers and venue managers want to reduce their impact, but they may not be sure how to evaluate their events. ISO 20121 provides guidelines and best practices to help event organizers measure an event's performance and manage its impact in all three dimensions: social, economic and environmental.
ISO 20121 provides the framework for identifying the potentially negative social, economic and environmental impacts of events, and capitalizing on more positive impacts through improved planning and processes. The standard offers solutions to reduce resource use and reduce cost. The use of standards confers a reputation advantage by using an internationally recognized framework to enable sustainable event management leaders to demonstrate their actions in a credible and transparent way.
The ISO 20121 standard is based on the Plan-Do-Check-Act cycle. The drawing below shows the stages that the organization wants to comply with the standard must go through.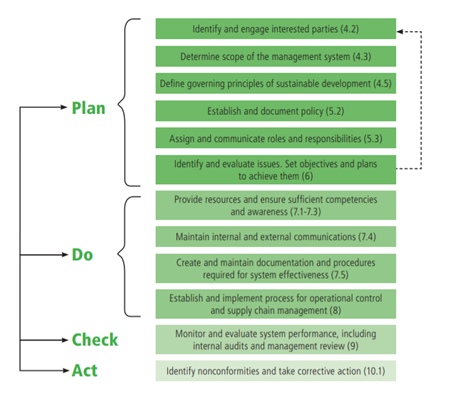 ISO 20121's event sustainability management system model
How to address the key impacts of events?
Addressing an event's critical environmental and social impacts will ensure that it will have a "sustainable" prefix. This can be achieved by identifying the main sustainability aspects across the 3ple bottom line of People-Planet-Profit, setting targets for negative impact minimization and finding proper means to address them.
A sustainable event should include positive social impacts. In general, the residents of the community hosting the event or the attendees benefit as sustainable events have the potential to contribute positively to developing social communication and networks, improving social cohesion, improving skills, raising awareness sustainability. Sustainable events also improve efficiency and stronger teamwork, increase employee productivity, attract the best talent, and improve retention.
Sustainable events should be designed to minimise energy use and the resulting greenhouse gas emissions. To achieve this, event planners can choose venues and accommodation that implement energy and water efficiency measures, use renewable energy sources, comply with green building standards. The choice of location also contributes significantly to reducing participants and products' transportation needs, thus reducing greenhouse gas emissions. Waste generation is one of the leading environmental issues of every event, and therefore, the reduction of materials consumption and waste generation is one of the critical sustainability targets. Addressing those aspects contributes to achieving cost savings in terms of material and energy consumption. Sustainable events can strengthen an organization's position in the community, enhance its reputation and strengthen relationships with key stakeholders.
Event planning and sustainability – future trends
The introduction of Sustainability requirements has been a major -and much needed-change for the event industry. Predictions – before the Covid-19 crisis – indicated that the event industry would continue to grow, but sustainability principles will need to be more tightly integrated into the process of event planning.
Event trends seem promising for 2021. Although events can negatively impact environment, resources, people, communities, current guidelines and standards on planning and hosting sustainable events can help event organizers avoid these risks and minimize negative impacts. Pressure from conscious attendees, participants or clients, as well as legislation push towards the right direction. Sustainable events can reduce costs, attract new diverse attendee groups and competent staff, improve long-term success and profitability, and increase revenue opportunities. Let's keep these in mind, as we watch the revival of the event industry.