Universities are powerful engines of global, national and local innovation, economic development, and societal well-being. Universities and knowledge institutions occupy a unique position within society and play an important role in building knowledge-based societies. With nine years remaining to achieve the Sustainable Development Goals (SDGs), there is an urgent need for the education sector to help society transform into sustainable development paths through four main areas:
Learning and Teaching
Research
Organizational Governance, Culture and Operations of the University
External Leadership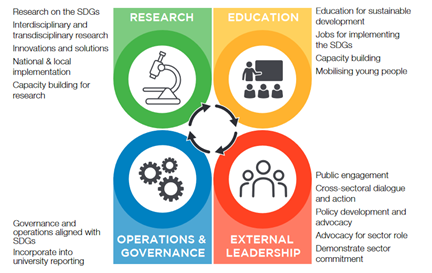 Universities and the SDGs both need each other. The SDGs are a global framework that enjoys strong acceptance and adoption among governments, companies and civil society. The SDGs agenda covers a wide range of interlinked social, economic and environmental challenges, and universities' unique functions and expertise are essential to overcoming all of these challenges.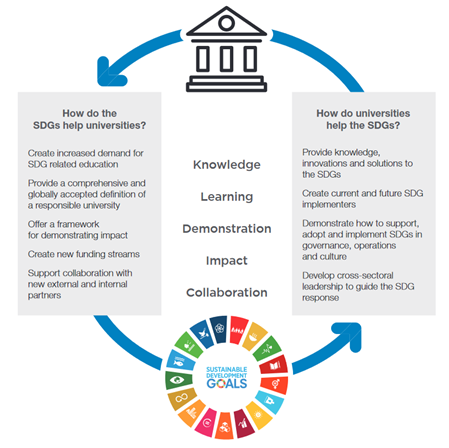 The Times Higher Education (THE) Impact Rankings
In 2021, Times Higher Education (THE) surveyed 2,000 potential international students. The study found that 79% of students believe that universities have an important role in achieving the SDGs, while 9% believe that sustainability is the most important factor in choosing their university.
Since its launch in 2019, the Times Higher Education (THE) Impact Rankings is the only ranking for evaluating the global performance of universities according to the SDGs. The ranking provides a comprehensive and balanced comparison based on all the SDGs across four broad domains: research, supervision, awareness, and education. On a scale from 0 to 100, the highest score is 100, and the lowest score is 0. THE Impact Ratings helps identify best practices for universities and their participation in advancing SDGs and encourage collaboration between universities, industry, and government. Besides, the ranking provides a powerful resource to help students locate where to study.
In April 2021, the third edition of THE Impact Rankings 2021 was issued. The overall ranking includes 1,177 universities from 94 countries/regions, offering a new vision of excellence in higher education.
The top ten in the overall ranking include universities from seven countries and three continents – Australia, Canada, Denmark, Ireland, the United States and New Zealand – and when looking at the top 100 universities in the ranking, 24 countries/regions from six continents appear.
According to THE Impact Rankings 2021, the highest-scoring institution is the University of Manchester in the United Kingdom. UK universities also top three tables on individual SDGs: 11, 12, and 14.
Part of the improvement in the UK is due to their increased representation, with 52 institutions participating in 2021 in the ranking. Besides, Manchester offers £15 million a year in financial support to students from underprivileged backgrounds to support equality and is committed to zero carbon by 2038. In addition, it has already disposed of more than 250,000 avoidable single-use plastics. However, there are concerns that government cuts in research funding could undermine this success.
The ranking described the UK, Australia and Canada as the "Golden Triangle" of countries that performed the best on all goals. Universities in other countries rank first in the specific SDGs: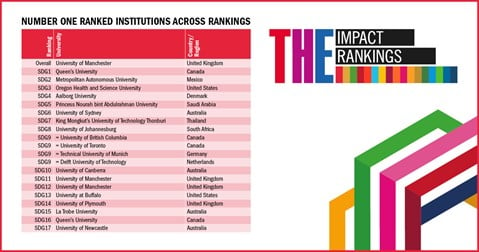 Universities in Portugal and South Korea ranked first in improvement. Portuguese universities have made sustainable development part of their strategic plans and established sustainability offices. They also created the Portuguese Sustainable Campus Network to help university staff share knowledge and best practices, resulting in an improvement in SDGs 3, 16 and 17.
Besides Portugal, universities in South Korea showed greater improvement in SDGs 4, 5 and 10. This improvement is because universities in South Korea have followed the pace set by the government in the Green New Deal and the Digital New Deal.
Joint Statement of Global University Leaders on the 2030 Agenda for Sustainable Development
In March 2021, leaders gathered for a first-of-its-kind online forum for university presidents on "The Role of Universities in the 2030 Agenda". The forum was hosted by Zhejiang University (ZJU) in China, and individual universities highlighted their SDG-related initiatives during the meeting.
ZJU announced a plan that includes making sustainability a part of campus culture, becoming a leader of low-carbon action, and transforming its campus into "resource-saving and environmentally friendly living laboratories". Yale University in the United States also announced that despite increasing campus space, they had reduced greenhouse gas emissions by 43% over the past fifteen years.
Presidents of 56 universities in 30 countries signed a "joint statement by world university leaders on the 2030 Agenda for Sustainable Development". The statement aims to commit the presidents of 56 universities across six continents to work together to achieve the SDGs and the 2030 Agenda. The signatories agreed on a five-part initiative:
Implement the concept of sustainable development across activities and operations;
Improve sustainable development competence of students, faculty and staff;
Support a wider spectrum of scientific research, including blue-sky discovery and transdisciplinary research, in response to global challenges;
Work with global partners to provide innovative solutions and leveraging technology; and
Uphold open science to facilitate constructive cross-border collaboration to solve specific problems.
Photo by Edwin Andrade on Unsplash
___
Sustainability Knowledge Group is a global Sustainability, ESG and CSR advisory firm dedicated in creating value through strategic advisory and training solutions, coaching and meetups. We work with organisations to develop, manage, and measure effective Sustainability strategies and programs, address social and environmental challenges, and bring tangible results, positive impact and create better businesses.
As a CPD Standards and ILM Recognised Provider, Sustainability Knowledge Group offers certified training courses on Sustainability. To join our trainings and gain the skills and knowledge you need to lead in Sustainability, visit: https://sustainabilityknowledgegroup.com/training
Book now for our next certified training: Chief Sustainability Officer (CSO) Professional, on 21/09/2021 – 28/09/2021.