During the past weeks more than 600 companies from 65 countries, joined the "SDG Ambition Accelerator " program! This newly launched program focuses on accelerating business performance for achieving the Sustainable Development Goals (SDGs).
The program was developed under the UN Global Compact leadership in partnership with Accenture, SAP, and 3M. The SDG Ambition approach was developed with five key commitments:
Ambition implementation: Practical steps leaders can take to integrate SDG Ambition into core business.
Platform agnosticism: Applicability to all business systems and technology partners.
Guidance Flexibility: Respect for geographical, industry and system diversity to enable tailoring at the organization level.
Alignment with existing standards: Directional KPIs and metrics drawn from leading reporting standards to inform decision making, with methodology selection to be done by individual companies.
Partner engagement: Stimulation for dialogue with software providers and partners to guide product roadmaps.
The SDG Ambition program will support and empower companies participating in the UN Global Compact to set ambitious corporate sustainability targets and accelerate integrating the SDGs into core business management.
The SDG Ambition Accelerator is a six-month learning journey for corporate executives delivered through the UN Global Compact Networks located in 30 countries. Representatives from the participating companies will join to assess current performance, areas of risk and new opportunities across their businesses to help companies take more ambitious business actions towards achieving the SDGs.
The results of the first round of the Accelerator program are expected to be presented at the annual UN Global Compact Leaders Summit on 15-16 June 2021.
The SDG Ambition Accelerator supports businesses to:
Strategically prioritize sustainability issues where they can have the greatest impact through their operations, products, services and across the value chain
Set ambitious goals and identify critical paths to achieving them
Integrate business objectives and outcomes related to the SDGs into core business processes
Design technology systems to track progress on goals across business units or functions
How to Integrate the SDGs into Business Management
Meaningful progress in achieving the SDGs requires businesses to integrate the SDGs' ambition standards and associated reporting across their functions and operations.
There are key steps companies can take to operationalize the ambition of the SDGs. The "Integration Guide: Designing Business Systems for the SDGs" is designed as guiding support for business leaders as they assess how the SDGs can be interwoven in their strategies and business implementation.
The guide outlines eight steps that all companies can take to implement the ambition of the SDGs:
Define priorities for SDG impact and identify relevant benchmarks through Principled Prioritization
Set goals that match or exceed the benchmark's level of ambition, either as a new goal or aligning existing targets
Identify the pathways which can be taken to achieve each goal, and shape actions and initiatives to drive progress
Define sub-goals to track progress and guide communication with stakeholders.
Establish performance metrics for evaluating progress and impact, which will inform decision-making and determine required data flows
Determine the business processes needed to enable data flows and drive action
Identify system opportunities to accelerate integration and unlock greater value and impact
Action the opportunities by making the Key Design Decisions (KDDs) for business system implementation
In approaching business integration of the SDGs, there are three critical areas: "People, Process, and Technology" in which companies can assess their current maturity in terms of sustainability management. These areas define key business integration requirements for the SDG Ambition Benchmarks. The figure below provides specific questions that business leaders should consider. Maturity across these areas will vary dramatically across businesses and industries. Companies should make their own maturity assessment when preparing to integrate their goals into business systems.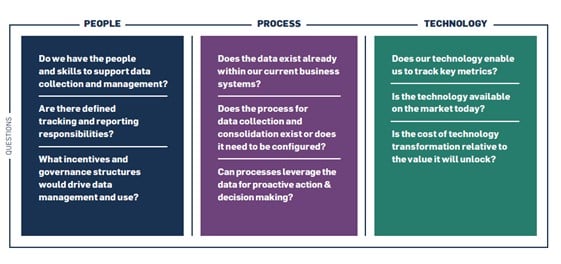 Business models and economies are fairer and more inclusive
Today, there is a need for "SDG Ambition" as a world is not on the right track to progress towards the SDGs with the speed and scale required. Companies must demonstrate bold leadership in taking urgent, scalable, and multiple actions, transforming business models and economies to become more fair and inclusive – leaving no one behind.
"UN Global Compact SDG Ambition Accelerator is working to mobilize a truly global movement of responsible enterprises to accelerate progress towards embedding sustainability into core business strategies and operations—not only for the benefit of society but for their own benefit as well," said Sanda Ogiambo, CEO and Executive Director of UN Global Compact. For their own benefit, too. "
___
Sustainability Knowledge Group is a global Sustainability, ESG and CSR advisory firm dedicated in creating value through strategic advisory and training solutions, coaching and meetups. We work with organisations to develop, manage, and measure effective Sustainability strategies and programs, address social and environmental challenges, and bring tangible results, positive impact and create better businesses.
As a CPD Standards and ILM Recognised Provider, Sustainability Knowledge Group offers certified training courses on Sustainability. To join our trainings and gain the skills and knowledge you need to lead in Sustainability, visit: https://sustainabilityknowledgegroup.com/training
Book now for our next certified training: Sustainable Development Goals (SDGs) for Business, on 29/03/2021 – 30/03/2021